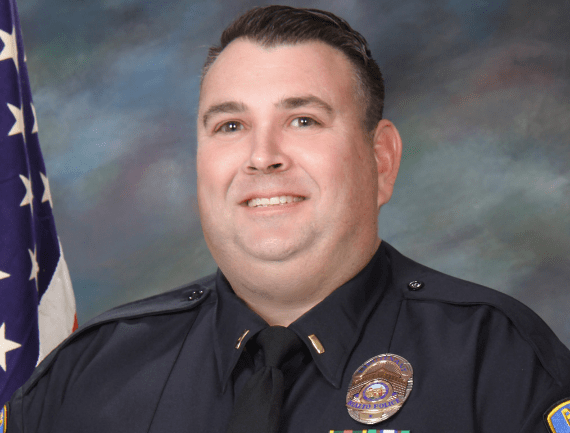 LIEUTENANT / AREA COMMAND 2
Lieutenant Smith is a watch commander.
Lieutenant Robert Smith has four years of active duty service in the United States Marine Corps. He was involved in "Operation Restore Hope", Somalia, while assigned as an infantryman in 2nd Battalion, 5th Marines. Lieutenant Smith received an Honorable Discharge and began his law enforcement career in the City of Rialto. He also served as a police officer for several years with the City of Placentia. The majority of his 18 plus years of law enforcement experience has been with the City of Rialto.
Lieutenant Smith possesses a Bachelors of Science degree in Workforce Education and Development, which he earned at Southern Illinois University. He attended the POST Supervisor course and holds his POST Supervisory Certificate. Lieutenant Smith has held a variety of assignments, to include: Patrol Officer, Traffic Officer, Field Training Officer (FTO), SWAT – Crisis Negotiations Team member, SWAT – Crisis Negotiations Team leader, and Volunteer Coordinator. Lieutenant Smith has served as the department's representative for the planning of the City of Rialto's Centennial Celebration, Special Events Committee, and Traffic Commission. He is also a former President of the Rialto Police Benefit Association.
As a Sergeant, Lieutenant Smith supervised the Traffic Division where he was able to secure several grants from the California Office of Traffic Safety (OTS) to augment traffic services. Lieutenant Smith collaborated with City of Rialto engineering staff, Rialto Unified School District officials, and other regional entities to address vehicle and pedestrian traffic safety issues through education, engineering, and enforcement. Several of those education and training programs include; Every 15 Minutes, Middle School alcohol / drug awareness, "Safe Streets" elementary school education, and Child Safety Seat inspections. Most recently, Lieutenant Smith supervised the Professional Standards Division (Internal Affairs).